Justice welcomes both casual and competitive gamers in Jönköping, while offering esports opportunities and challenging gaming stereotypes. EDIT met up with them to have a chat about it!
From arcades to Nintendo, Xbox and Playstation – Mario kart, Csgo, League of Legends and Overwatch – the gaming industry has taken the world by storm since its first appearance by the late 70's. The playful stories, interactive games, colorful characters and catchy soundtracks got us absolutely hooked by our screens for an experience like no other. It makes billions of players all around the world go online where they can connect to their favorite games, but also talk to other players that have the same interests. It has created a global community, which is remarkably present in Jönköping – the city of Dreamhack, and nevertheless on campus!
Justice is an association (@justice.esports) related to gaming here on campus that is perfect for students with a passion for games! It's an association where you can play either competitively or casually.
"It is a great opportunity to get into esports while having a safe community to be in. We both have close connections with coaches, dreamhack and opportunities to join a team", says Klara Swiecicka (Graphics Agent) and Madeleine Heath (Head of marketing), board members of Justice in an interview with EDIT.
It is also a great opportunity to meet new people, socialize and make friends. You can learn to improve your gaming skills even if you are a casual gamer or a professional. It is also a community for international students that did not bring their computers to Sweden, have a place to enjoy their interests. Justice is open for every student at Jönköping University that becomes a member, regardless of the color on your pants. Justice strives for unity between the schools, where everyone can join and share the same interest in gaming. They also host events such as Corehack and kappa events. Their new venue had it´s grand opening earlier this semester, which is located at science park. More than fifty students showed up at the grand opening which exceeded everyone's expectations. The venue got many computers and different consoles, such as Virtual reality, for the members to try out and play games with, says Klara and Madeleine.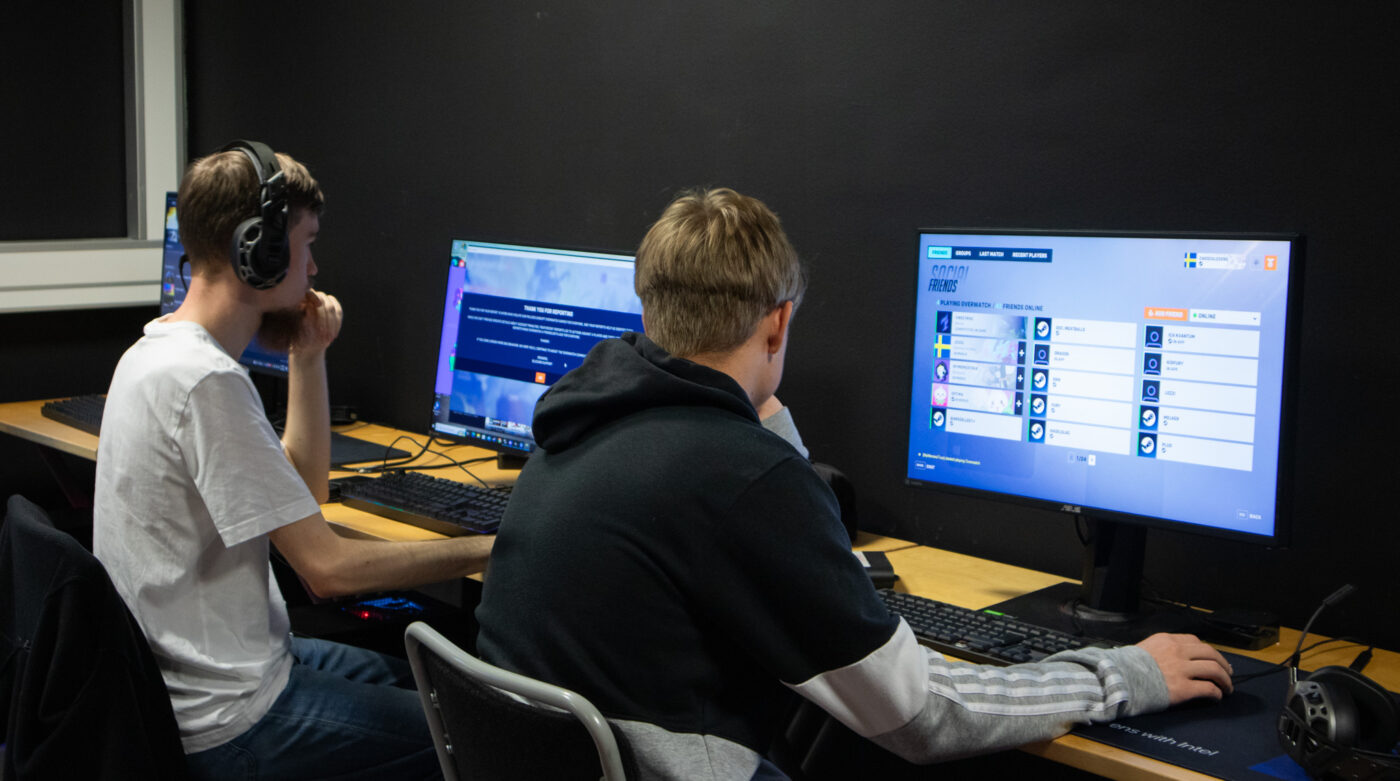 EDIT decided to check out the venue during their latest event and it was filled with both members and potential members for Justice. Everyone was laughing and socializing while playing games such as Mario kart, League of legends, Halo and many more. Their members enjoy the new venue and are very happy with it!
At the event, their members were asked what they think is the best thing about being in Justice:
"I would say that the best thing about being in Justice is to meet new people and to learn from them."
"It is nice to be able to socialize with people from all around the world."
"It's fun, I look forward to all the events!"
They also mention that Jönköping is a good region for gaming, but that it did lack the community, which makes it even more important for Justice to create and maintain a community especially for it.
It has become like my second family, says Klara Swiecicka.
Justice acknowledges that the overall gaming community is dominated by men and that there are a lot of stereotypes within the community. Klara and Madeleine says that this becomes apparent during some of their events:
At a previous event, Corehack, there were about thirty men at the event and only one woman. It was like a wakeup call.
When asked why they think it's like that, they continue by saying that women and casual players might feel intimidated to join because of inexperience in gaming or by the fact that it is dominated by men.The stereotypes create a picture about the "typical gamer" which causes conflicts for the casual and women gamers once they are considering becoming a member. Everyone might not feel represented or like they fit in because of the stereotypes. They stress the fact that it is important to show more inclusivity in Justice to spread more awareness to the students that gaming is for everyone, both professional players and casual, regardless of gender and sexuality. They also want to show that there are women in the group as well and that not all women that like to play games are like the stereotypical "gamer girls" that you see online. They want to "debunk the stereotypes." Justice strongly encourages more women to join the board since it's also dominated by men.
"It's important to promote that we are an equal organization to make a good impression."
Thus, the gaming community is gaining more and more involvement by women. As games are becoming more and more popular by women all over the world, some of the stereotypes are slowly starting to fade.
It´s changing slowly but steadily, girls are getting more involved, says Klara and Madeleine, which makes Justice hopeful for the future.
"At our grand opening there was a point where the amount of women in the room was the same as the amount of men." Justice are currently looking forward to hosting future events such as for "female legends" and "Girls game night" together with Girls Unite, which focuses mainly on casual gaming. Justice are looking forward to the upcoming semesters and events, and to further develop and build a strong gaming community on campus that is meant for everyone! You are all welcome to take part in Justice and to enjoy your interests together with a strong and welcoming community!
Starting off your gaming interest? Here are Justice´s Game tips!
Overwatch – It is a fun game to start off with, it is easy to learn and the community isn't too toxic, all you need is a decent computer!
Minecraft – A fun game to play either alone or with your friends, whether you are down to mine, build or farm. It is an easy game for everyone, and most computers should be able to boot it up!
Sims – Easy, simple, fun and relaxing game if you have hours to spend on designing your house! Would recommend it for beginners!
Super smash bros – A very fun game to play with your friends, where you can play with your favorite characters and fight each other!
Overall games with special arts, special music and a great storyline to follow. VR is also very fun to try out regardless if you are a professional gamer or not.
If you have a computer that doesn't allow you to play newer games, then try out old games!
Everyone has their different things that they enjoy, there are so many things to choose from! It takes time to find one that you really like, says Justice.