Ever wondered what it's like to kiss a moose? You don't have to anymore! EDIT journalist Justine Hewett went on IAC:s moose safari, and now she's here to tell the story.
Like many who travel I had my bucket list for Sweden written before I even arrived.  One of those was seeing the King of Sweden up close… and no, not the man (I mean no disrespect) but the King of the Swedish Forest…The Moose.
So, when IAC posted on their Insta (@IACjkpg) that they were going on a moose safari to 'Virum Älgpark' I was in! I will quietly admit that I was beyond excited, and felt like a giddy schoolgirl, with butterflies in my tummy and all, which may seem unusual to some, but those that went on the safari I'm sure can totally relate. Coming from Australia I have seen my fair share of weird, wonderful, and downright amazing animals, yet the moose was something simply incomprehensible to me, until now.
I have stood eye to eye with an emu (and yes Australians have a history with emus, just google The Great Emu War for a laugh), I have cuddled a joey (a baby kangaroo) and I have even held a koala but when I laid eyes on the king for the first time, when I heard the noises they make and felt their fur I was smitten and awestruck and a little dumbfounded in how to describe their awesomeness, until I volunteered to write this article…so here goes.
The safari journey consisted of roughly forty people travelling on a bus to get to the farm, and overall, we spent more time on that bus than we did with the moose, yet somehow the anticipation of the experience to come only heightened my enjoyment. They do say the best things in life are worth waiting for, although I'm not sure they (whomever they are) meant me… wanting to see moose… but it felt right.
Our lunch stop was in the sleepy town of Vimmerby. We practically had the entire city centre to ourselves; it was almost completely deserted apart from a few dog walkers and the odd parent trying to run some energy out of their child (it was after all Sunday morning). We all wandered around in groups smiling at each other as we passed trying to find something to do until lunch when we all converged on a local restaurant, The Monte Carlo. Safe to say they were expecting us to be a noisy group as they put us upstairs and away from the locals. The food was tasty and served quickly, but this wasn't what we came for. You could feel the anticipation as everyone just wanted to be back on the bus to go and see the king.
And then it happened! We knew we were close, and the hushed sounds of pure excitement fell on the bus. Then we saw, with gasps heard from the front to the back of the bus… cows. Yep, good old faithful cows. Beautiful nonetheless but not what we wanted. 
A few sharp turns later, we arrived at Virum Älgpark where we met the owner Jon. A Viking looking man (no not because he's Swedish…but the full beard and top bun and long blond hair in a ponytail) who was full of life and ready to take us out in the carriages to meet his extended family, the moose. He gave us some truthful tips about what not to do as well as some insights into caring for a herd of moose as well as how to have what we all came for… the famous moose kiss. 
And then we were off. In a train of open sided carriages pulled by a tractor with the threat of carriage 5 being left behind… (I was in carriage 5 and could not think of anything better) 
As we entered the top paddock, we could see the moose in the top corner standing altogether. It was breathtaking. My giddiness grew and I couldn't stop the childish grin that went from ear to ear. It was perfect. Nothing else mattered at that moment, except to get closer, and of course get a kiss.
We travelled deeper in the paddock toward a tiny opening which took us to the back paddock. Some of the moose slowly followed behind while others seemed to come from all over the paddock. They know we mean food, and they love their potatoes. Funnily enough I had no idea what moose ate until I was at the park. FYI, they eat plants and branches and are fed substituted foods in pellet form as they are herbivores, but they love their raw potatoes which are cut into a chunky fries like shape. 
Jon walked past each carriage giving out handfuls of potatoes to each of us and we didn't have to wait long before we were surrounded. It was incredible, amazing, nerve wrecking (they are after all wild animals), peaceful, and overwhelming. So many feelings… yet unanimously we were all aware and almost at the same time, that silence or controlled whispers were the trick to having more moose come visit your carriage. 
Now before I get carried away about my epic kiss, I need to let you know that Jon told us a little about each of the moose he cares for, such as their names and their personality before we entered the paddocks. The one that stood out to me that I REALLY wanted to/had to meet was Saga. She is cheeky and naughty and also… the boss! Jon explained how it's great having her around as she protects him and all the other workers from the other moose, including having previously knocked down a full-sized bull! Yet, the downside to this is that when she is annoyed with you, there is no one to save you from her.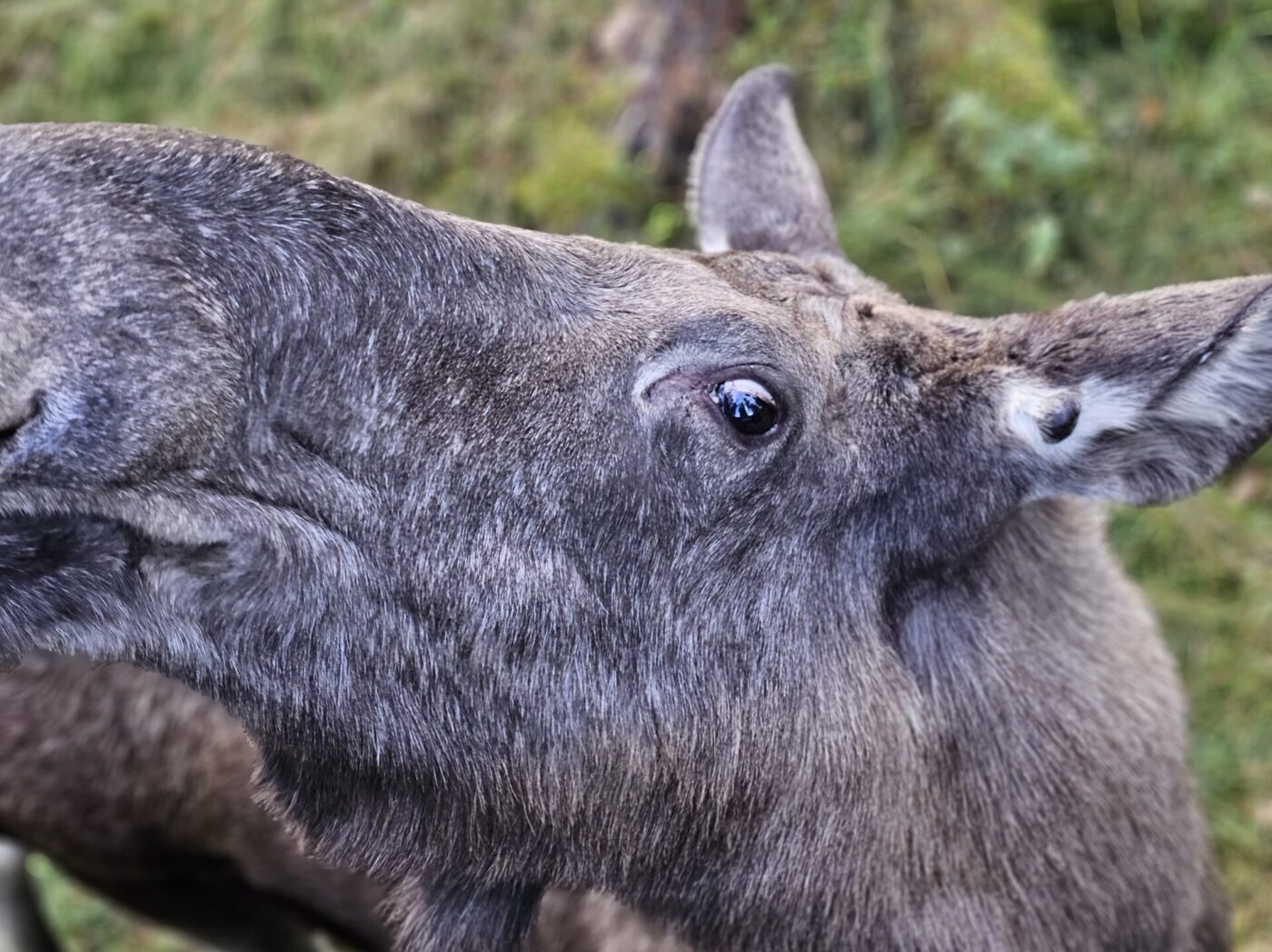 Nevertheless, the main reason for me was that she is also very stubborn and for some reason I am very attracted to stubborn animals, like cats. I love cats. Anyways, back to Saga. Saga is renowned for choosing which carriage she wants and no amount of enticing with food will change that… and on this particular trip she chose carriage 5! She mainly stayed at the back but still she chose us! It was a small but mighty win for carriage 5 that day.
Now to the all-important kiss… the grand event… the epic moment of truth. 
Would I freak out and not do it?
Well honestly, I almost did. They are HUUUUUGE animals with massive faces and they absolutely dwarfed us sitting in the carriages. They had to duck their heads down just to get the food out of my hand. So yeah, I was scared. Everyone around me had done the kiss and I'd even taken pictures of others so they could have this keepsake memory and while this may seem like I bowed to peer pressure, the truth was I knew I wanted to do it and that I would regret it if I didn't and besides I couldn't come all this way and not do it… so I found a good-looking potato fry and held onto it… and waited… I have no idea who I kissed and I'm not sure how animal consent works but it happened! We kissed, and I've got photos to prove it. I can now cross that off my bucket list! And wash my face.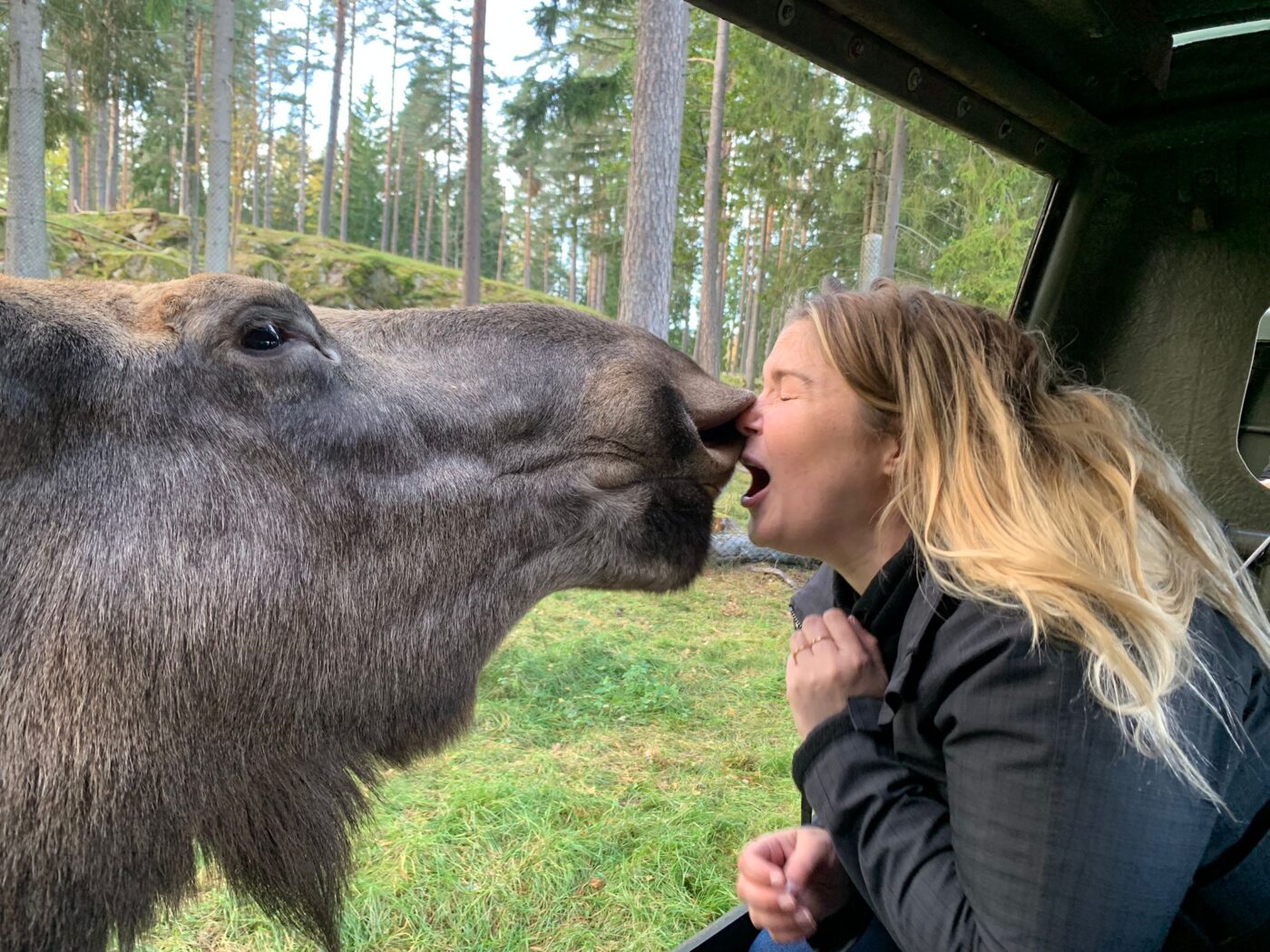 Then it was time to move on out of the paddock. No one wanted to, but it was time. We watched the moose happily walk away as our carriages moved on and up to the top paddock where for me at least the bliss of being around these majestic creatures quickly turned to frustration and sorrow. Jon, upon being asked about the moose, explained to us why the majority are born into captivity and are not rescued animals. He clarified for us the laws that exist in keeping moose. You could see the pain behind his eyes and the slight cracks in his voice as he told us how calves under one year old can be rescued… but it's up to the government if they live or not.
This decision process also takes time, and as baby calves need care 24/7, they live with their caretakers and become a part of the family, sometimes for up to 3/4 months, sometimes longer only then for the government to decide that the young calf needs to be terminated. Which must be done immediately and by the caretaker. The sorrow I felt was for Jon and his family as you can see the love he has for these beautiful animals. My frustration was not for the government, well maybe a little, but for the fact that the caretakers are not invited into the conversation regarding the animal's life. It is out of their hands even though they are the ones providing 24/7 care. This was a hard truth to swallow but an important one. 
With my phone full of pictures and a couple of souvenirs I had learnt so much about Sweden's king of the forest and I'm so happy I went. I'm now off to do the next thing on my bucket list…. and to do some studying… maybe.